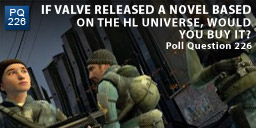 As you probably know, I ran a fan fiction competition last year and it was pretty successful, at least I thought so. Anyway, a little investigation (my name is Phillip Marlowe!) finds that actually there is an awful lot of Half-Life fan fiction about.
This got me thinking whether Valve should release some official stuff and if they did would you actually buy it. I don't mean download it, but actually pay money for paper!
I am not sure I would. Not because I don't like reading this kind of stuff, but for the same reason I don't buy anything from the Valve store – it's a game series, yes a great game series, but that's all. I don't want clothes, or mugs or any other paraphernalia – including books.
What about you?
The Poll