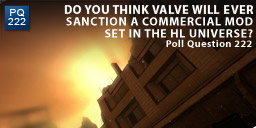 In the PP Discussion Podcast 002 I mentioned commercial mods, and the idea of a commercial HL mod popped into my head. I said I would make it this week's Poll Question and here it is!
I am not saying that Valve should but I feel it's a valid question.
Of course, once a mod goes commercial the quality level is expected to be the same as the games, but there have been a few that have that level – at least in my opinion.
As long as the mod doesn't break canon, I would be in favour of Valve exploring the idea.
Careful readers may have noticed that I haven't used "game" when referring to this question. That was on purpose because I could see calling them mods, would allow Valve to distance themselves slightly. These mods would still require a valid Source game to have been bought, which may increase sales in some cases, although I admit that's unlikely.
Personally, I don't think they will, although they could if they set some tight limits on what would be considered.
What do you think?
The Poll