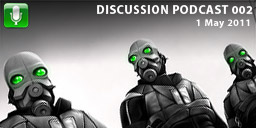 Here is the second discussion podcast.
Joining me for this podcast was Patrick AKA foxholeboy.
We were due to have another guest but that didn't work out. Thanks for listening.
Listen to the podcast
Loading…
The following points and poll questions were discussed
Some of the mods mentioned
The fake commercial breaks
The first one is for LambdaGeneration.Com.
I made the second ad in tribute to this video.
If you want your website or mod made into a fake commercial please contact me.
Attention iTunes Users: All my podcasts are now available via the iTunes Store.
This podcast was recorded using Pamela Professional, an application that I recommend for managing and recording Skype calls. Full Disclosure: As an affiliate, if you purchase this application using the link above, I receive a small financial reward.