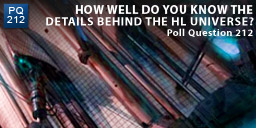 I know it's only February but I am going to make an effort this year to spend time researching and reading about the details behind the games themselves.
I will use four main source: Combine Overwiki, HalfLife2.net's forums, The Half-Life Saga Story Guide and Valve's Raising the bar.
For some readers this may seem strange but I have to admit that I am not as knowledgeable or as well-read as I should be, or would like to be, about the finer details of the games. For somebody always expounding their virtues I should be better informed.
Who knows what may come from the research, perhaps some fan fiction or some detailed pieces offering my viewpoint.
I therefore, ask you, the reader and player, to join my in my knowledge quest. If enough people are interested I will start a sub-forum to discuss interesting information.
The Poll