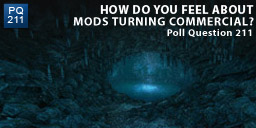 A Steam friend of mine messaged me yesterday about the announcement of Dear Esther going commercial.
He was disappointed with the community's response – specifically the negative comments.
I have to admit that I have only read a few comments on the ModDB page, so by now perhaps the number of support comments has increased.
It's hard not to see any modder not wanting their creation to turn commercial and get them into the gaming industry and let's be honest, that why a large number of modders do what they do. Sure, it's not all but a very high percentage.
However, I do have misgivings about taking a mod project and turning it commercial. I feel that authors, and I am not specifically thinking of Dan Pinchbeck (Dear Esther creator), who use the community to build up a following and then force them to pay for the mod are sort of cutting of the hand that feeds them.
adv0 says it beautifully"…But I was envisioning this with a spirit that frankly didn't include commercialization.".
If Dan had said that he was going to make Dear Esther 2 as a full commercial game I think I would be more supportive. I have been excited about playing the updated version but now I won't be able to because I certainly won't be paying for it, no matter how inexpensive it is.
Look at it like this. If I said that PlanetPhillip.Com was going to a paid membership based model and you could only access the site after you have paid $10 a year, you would probably be very angry.
If, however, I announced a new site that would have paid membership, you might be more amenable. I know I would. If I have been getting something for free for a while and then suddenly I had to pay for it, I wouldn't be happy.
Now, if Dan says, everybody who was watching the mod on ModDB before the announcement or had sent me "thank you" emails, will get a free copy, I would be much happier. And just to clarify, I'm not in either group, so it's not me trying to get a free game.
That would be supporting the community that actually helped make the mod popular in the first place.
Of course, the same happened with Garry's Mod and it just got better and better, but this is different as it's a one-off game. There won't be regular updates.
I might feel more negativity if it were an FPS mod that I was really looking forward too but in principle I think mod teams releasing commercial products is a good thing and I wish Dan every success.
What about you, how do you feel about it?
The Poll