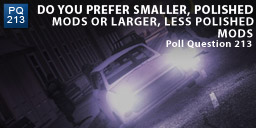 I was thinking why Imprudent Trek Above the Streets, won my recent RooftopVille mapping competition. Not only did I select it as the winner, most readers did too. There were some very good other entries but this one seemed more focused and polished.
That just might be an impression and there were a few errors with the design, but overall it seemed to have a lot of care taken over it.
The whole thing got me wondering whether amateur mod makers should make something smaller and more polished than think big. Now, I am sure there are some readers who will think that this is a subtle attack on Leon and that's not the case. His entry was very polished and wasn't too big either.
I really am just thinking generally.
Of course what is small to some is too small for others, so it really depends on the mapper or team. The subject is aprt of a larger article I plan on how mappers and mod teams often try to create something too big. The recent "Hit" here on PP was Sebastian and that's definitely not a big mod.
It has a clear beginning, middle and end and I honestly believe that's important. With larger mods, those distinctions can be harder to maintain and manage. The player can feel lost in a never-ending flow of areas with clear readon for being there.
Anyway, I'm rambling.
Assuming that I am not talking about huge and terrible mods or mods that only have 15 minutes of game, which do you prefer: Smaller, polished mods or larger, less polished mods?
The Poll