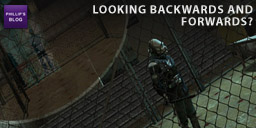 This is something that occurred to me while walking yesterday and watching a couple of cats stalk a bird. It's probably been done in games before but I can't remember seeing it – that's one of the problems of not playing other games.
The idea is that when you press the backwards key somewhere on the screen a small window appears that shows the view behind you. The size, placement and transparency of the view would be controlled by the player in an options window, same as other in-game options.
The faster you move backwards the more solid the view is. I suppose there must be variations, such as when we turn the mouse a small area of the edge of the screen increases the field of view or something like that.
I know the cats couldn't look backwards but any sound behind them caused their ears to turn and of course we can do that. It got me think about being more aware of our surroundings while playing games.
I know that when we get hit from behind the red signal appears at the bottom of the screen but I am thinking more about seeing rather than responding.
I have created a simple mock-up here: A Looking Backwards Example.
I am interested to hear from readers if they have seen the idea in other games and if they have did they like it. Also, what do you think of the general concept?