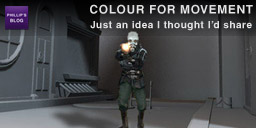 Allow me to introduce three seemingly unrelated points and then try to bring them together.
Apparently that's what clever writers do, so I thought I'd try it.
I once remember reading that snakes can only "see" you when you are moving. Of course, I could simply connect to the Internet and check my facts but I prefer to think it's true. This way it doesn't make me feel too much of a fool when I freeze on seeing a small snake in the mountains, hoping it won't notice me!
One aspect of game design that greatly interests me is enemy movement and behaviour. Nowadays, this is known as A. I. (Artificial Intelligence) but I prefer to think that there is more to interesting enemies than just making them more human-like.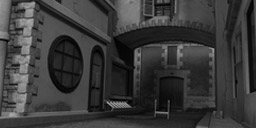 I was chatting with CubeDude89 a while ago and he showed me an image he had created (seen on the left). I told him that it looked great and thought nothing of it.
That is until now….
(Time to bring them together….Excited? I am. Be still my beating heart!)
99 percent of the time an enemy sees you when playing an SP FPS game he attacks you. Bioshock developers made a big fuss about how cool their enemies were because they didn't attack you on sight. Shock! Horror! Blah! Star Trek Elite Force had already done it with the Borg, but it does raise the point that there needs to be something more than complete attack or complete indifference to players by the enemy.
Not only are there plenty of possibilities between those two points, there are also lots of other possibilities.
I would love somebody to build a mod where the overall visual effect was grey, or to put it another way almost complete desaturated. Perhaps on a planet where the light from its sun and some effect of the atmosphere makes everything look grey. That is until it moves. It then bursts into colour. Through millions of years of evolution predators and prey have developed movement and other techniques that take advantage of this phenomenon.
Let me make sure you understand what I am suggesting. When the player or enemy stops moving they fade into the background. Since everything is grey they almost become invisible.
The faster they move the brighter the colours are.
At first glance this concept might be better for MP games, and it could certainly make for an interesting experiment, but as regular readers will know I don't give a flying headcrab for MP games and try to turn everything I think of into something related to SP gaming. 🙂
Since most computer controlled enemies remain more or less still (as they would if this were a real environment) it would force the player to draw them into the open by moving and becoming a target. Of course it could work nicely for some daylight stealth gameplay.
When the player or enemy is not moving they don't become completely invisible but simply blend very closely with the background.
Now, imagine a non-humanoid alien on this world. It can only see you when you are moving. The moment you stop you effectively disappear from view. Of course, the moment that happens it starts to search for you by moving about. Can you hold your nerve and keep perfectly still? Can you resist the temptation to attack when it is right next to you? Why should you? Because this particular alien only needs to hit you once and you are dead. If he bumps into you when searching for you are more or less assured of being killed. So unless you can guarantee killing it very swiftly it's better to remain more or less motionless.
Clearly plenty of beta testing would need to be done with something like this because players just aren't used to this type of gameplay and it's quite unnatural.
One scene that comes to mind is in the first Predator movie where Arnold Schwarzenegger is covered in mud and the Predator can't seem him because it uses heat to sense its prey and the mud has masked his heat signature. Whilst this is not exactly the same, the concept is similar.
Some Details
I mentioned earlier that there were many possibilities between attack and indifference. Let's explore some with direct regard to the colour/movement idea. Let's assume that the brightness is directly related to speed of movement. If something moves slow enough then it stays on the edge of visibility.
When certain enemies see very bright colours they almost ignore them. Why? Because this particular alien is quite cumbersome and knows that it is unlikely to catch any fast moving prey.
Next, it also ignores a stop start movement pattern. Why? Because this type of prey tends to be very small and it has evolved to ignore this signal because it's simply not worth the effort.
Of course, I should point out that the player doesn't know this when they start the game or mod. This would be one of the aspects of this particular game; finding out which strategies work best for which alien.
Perhaps the game or mod is set on a world the Combine have invaded, in much the same way they did with Earth. The player is transported to this world while infiltrating a Combine base. Anyway, I digress.
Let's not forget that this works both ways. The player can only easily see enemies when they are moving quickly too. This means simply relying on looking around is not enough. Perhaps it needs to use the environment to their advantage (this would need to be built into the design document from the very beginning).
Developers can create enemies that once they sense the player they adapt their movement accordingly. Instead of immediately attack they player they perhaps remain still until the player is within a certain distance.
Another possibility is that the enemy only moves when the player does. It also never moves directly towards them but it a zigzag pattern. At the same time it still moves very slowly after it has stopped, so that the player can never be entirely sure where it will be.
With planning and skilful implementation this could turn into a kind of chess game where the player has to carefully adjust their movement under changing circumstances.
Take it one step further and imagine an open area where the player encounters two types of enemies within this area and has to decide which enemy is more dangerous at any given point.
I'd also like to see some enemies that actually try to keep as far away from the player as possible. This could be for a number of reasons. One, to try and draw the player into a weaker position and then attack or two because it is part of a pack and has been assigned this role to distract you. It still tries to attack you from longer distances but has very little effect.
Which brings me onto my next point; consistency; I'd like to see less consistency with regard to enemies. When I am fighting the Combine I'd like to see and hear some fear. Why not have the last fighter in a group look around and realize they are alone and retreat, especially now that Gordon Freeman's reputation is known throughout the Combine ranks?
There must be plenty of other option similar to the above example. What I am saying is that I don't just want smarter A.I., but I want something deeper too.
Isaac Asimov
For those that haven't heard of Isaac Asimov, visit the link but suffice to say he is considered one of the greatest science fiction writers ever. Why do I mention this? Well, even though I forget most of the stuff I have read I clearly remember reading one of his short stories where the human heroes encounter an alien that can only see them from one side of its body. A bit like those fish that lie flat in the ocean. One of their eyes has moved around to the other side of their body.
This alien only ever attacks with the sun behind it or from the west or something like that. The point I am trying to make is that must be plenty of variation in enemy movement and behaviour, especially with regard to aliens. Here is one last example. Larry Niven wrote a book called Footfall about an alien invasion of Earth. In it the aliens, who were Elephant-like creatures, assumed that once they placed one their considerable feet on a human's chest the fight was over.
This caused a little confusion at first because the humans didn't understand their behaviour. Of course since the book was written by a human about humans they eventually use it to their advantage. (It's a good book and I highly recommend it).
So, there you have it. Colour For Movement.
Would it work?