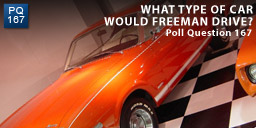 What do we really know about Gordon Freeman? Not that much. I am sure many of you have wondered about his life outside of Black Mesa, so this could be the first of many fun polls, based around the idea of:
What Would Freeman Do?
BTW, I emailed Doug at Valve and mentioned the poll and asked what kinds of cars they drove but haven't received an answer.
One thing that would be interesting would be to hear why you think he would drive the option you selected. Who can justify him driving a 2 door compact?
The most convincing argument for their choice of car wins a $5 Steam game. Get voting and writing!
The Poll