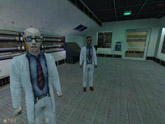 Update
I've decided to use this question as poll Question 11. Not because I couldn't think of anything else but because I thought it deserved a wider audience. SO the question is 1 Great or 3 Average?
A Tricky Question
Don't ask my why this question popped into my head (Actually because the answer is rather rude!) but here it is:
Think of your favourite game of all time, the one that beats the rest for enjoyment. Now think of three good games, perhaps they are not exactly second, third or fourth on you all-time list but around seven, eight and nine.
Now imagine you had a choice between keeping the one great game and keeping the three good ones. Which would you choose?
In my case the games are as follows:
Number One ALL time favourite: Half-Life 1
Three good games: Return to Castle Wolfenstein, Elite Force 1 and Chaser.
My answer? Probably Half-Life 1. For some reason I think the answer (not mine specifically but generally) is important but I can't put my finger on why! It's as if the answer revels something important in game and mod making but it's just out of reach.
Maybe there is some sub-conscious process that says "Good is not enough, aim for great"! Maybe it's telling me that Valve got it right when they went for quality over quantity? Maybe it's telling me short really IS sweet. I don't know. Do you?
Wednesday 21 June 2006 Update
Okay a quick update to clarify. NO mods or addons can be considered. Makes it too easy for HL1 to win. Also imagine I'm a game show host and you have won your all-time favourite game. Because the show has to be a bit more exciting I offer you your number ten, nine and eight on the list to swap for the number one. You perhaps say "No" I then offer your number 11 or maybe number 7. How many games would it take to make you swap? For me I think about five games. I love HL1 but having five other games to play would be too much to resist.
The Results
Which would you prefer 1 great game or 3 average?
1 Great Game…88%
3 Average Games…12%
Total votes…58