As part of the Reader to Reader series of posts, I thought we could talk about the "other" games we play.
I'm not talking FPS, because we did that in the Your Favourite Underrated FPS Games post, I'm talking about everything else.
For this post, let's stick to video games and we'll do other types of games in another post.
If you have any images you want added to the post, either link to them or send them to me and I will size them and embed them in the post.
I'll start the ball rolling with myself.
Tetris
About 2 years ago I found my beloved Gameboy Pocket. I thought I had lost it and was over the moon when I came across it. I have about 6 games for it, but the only one I really played was Tetris.
I only play Game B though as I dislike playing for too long. For those that don't know, game B requires the player to complete on 25 lines to win. However, there are two variables: Speed and pre-dropped shaped. You have 9 levels of pre-dropped shapes and 5 levels of speed.
The image below shows my high score for Level 9, High 5 – the hardest possible. I've looked for records for game B online and I can't find any, so I am going to stick my neck out and say this is the unofficial World Record: 33,200 points.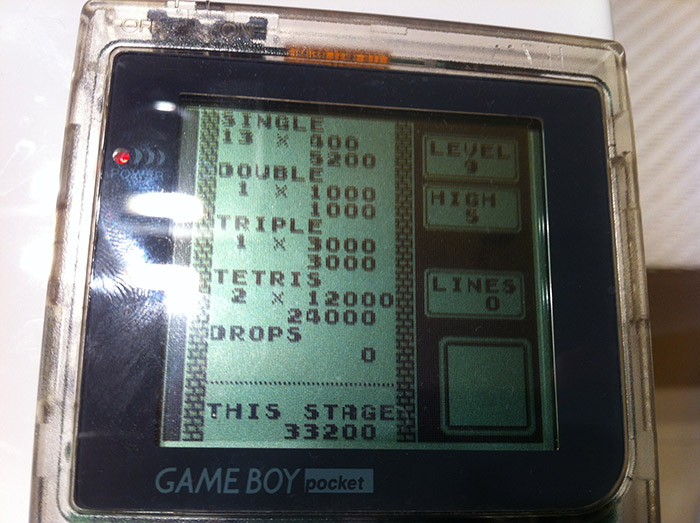 I play at least a few games every day now. I love it so much, I even wrote an article on it for a squash website: SquashMad.com: What Tetris Has Reminded Me.
One other small piece of trivia. When you reach 25 lines in game B, Level 9, High 5, you get the following animation:

Trackmania
The only other game I can think of that I played a lot is Trackmania. I think I played one of the original games and remember one track that I played again and again and again.
I did venture online a few times, but most of the tracks were custom and they were overly complicated for my liking. I haven't played in years, but if I can find my controller (I can't play with a keyboard) I might play a few games again this summer.
The official website has a updated version called "Trackmania Nations Forever" and it's also available on Steam.
The version I played is available here Trackmania Nations at Softonic. There is this patch to bring it up to the last version before it became "Forever".
Well, those are the two games I played most outside of FPS, what about you?