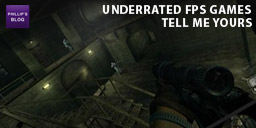 We all have our favourite games outside of the Half-Life series and after reading Blue Lightning's introduction comment, which included a reference to an underrated FPS game, I thought it might be nice if we had a special place to do that.
I would like to you name the game, tell us a little about and then why you liked it. Would be good if you could link to the Steam page for the game but it's not compulsory.
Don't forget to use the new HEADING button in the comments section.
I'll start….