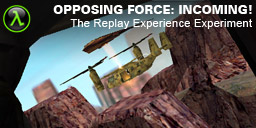 As the game begins, Shephard is part of the clean-up operation. After his transport aircraft is taken down by an Alien Aircraft and he is cut off from the rest of his unit, the "clean-up" mission is abandoned and Shephard joins forces with the scattered survivors seeking escape.
Before the first chapter of Half-Life: Opposing Force, a short introduction is shown.
As Adrian Shephard and his fellow HECU comrades are approaching the LZ (Landing Zone 117) at the Black Mesa Research Facility, his plane (codenamed Goose 7) is shot down by alien aircraft, along with several other V-22 Ospreys (the first one is codenamed Goose 3).
The rest of the opening sequence consists of Shephard continually losing and regaining consciousness, seeing conflict between the Xen aliens and the Marines who survived the crash.
Trivia
The canyon wall from the first part of the Half-Life chapter Surface Tension, which Gordon used to get to the Lambda Complex, can be seen.
The chapter name "Incoming" is given in the "titles.txt" file.
This chapter most likely takes place at the same time as either "Office Complex" or "We've Got Hostiles" in the Half-Life storyline.
The Poll
There is no poll for this chapter.
Challenges
There are no challenges for this chapter.
Saves
There are no saves available for this chapter.
Screenshots
Click on the thumbnails below to open a 1024 pixel wide image.
WARNING: The screenshots contain spoilers.
The Replay Experience Experiment
This post is part of the The Replay Experience Experiment summer 2012 event. This is a chance to replay all the Half-Life games and discuss them based on our experiences since we first played them.
Hat Tip
The trivia text taken from the CombineOverWiki, a fan-supported, editable wiki covering the Half-Life series of games.
Walkthrough
On the left is a complete text walkthrough for Half-Life: Opposing Force.

It has been written by Stanley E. Dunigan and updated with all the tricks and tips from PlanetPhillip.Com readers.

It is in PDF format, meaning you can open it directly in modern browsers or download it and print it.

(Left-click to open and right-click to save)
Do Not Own This Game?
You can purchase Half-Life: Opposing Force directly through Steam and could be playing in within moments, depending on your internet connection.