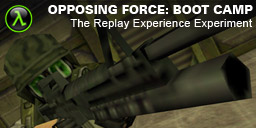 The training chapter of Opposing Force. Adrian Shephard is bumped to the top of the Advanced Training list.
Shephard and his comrades are trained by Dwight T. Barnes, Marine Drill Instructor, in Santego Military Base, Arizona.
He works his way through the training exercises overlooked by Drill Instructor Sharpe until he is ready for the field.
Trivia
Easter egg: in the dormitory where the level starts, each trunk bears the name of a Gearbox employee, such as Randy Pitchford, Stephen Bahl, Rob Heironimus, David Mertz, Landon Montgomery, Patrick Deupree, John Faulkenbury, etc., mirroring the Easter egg from Half-Life in the locker rooms of the Sector C of Black Mesa.
Other Easter egg: the room right below Shephard's dormitory exists but can only be accessed by noclipping. Inside can be found an Easter egg, consisting in initials and a date ("DMM 1999"). "DMM" is the signature of Santego Military Base's designer, David Mertz, Gearbox employee. "1999" is the release date for Opposing Force.
The Poll
Challenges
The challenges below have been set by 2muchvideogames
Find all 7 MP soldiers.
Avoid taking steam damage.
Get across the final pit in the rope course without using the ropes.
Saves
There are no saves available for the Boot Camp.
Screenshots
Click on the thumbnails below to open a 1024 pixel wide image.
WARNING: The screenshots contain spoilers.
The Replay Experience Experiment
This post is part of the The Replay Experience Experiment summer 2012 event. This is a chance to replay all the Half-Life games and discuss them based on our experiences since we first played them.
Hat Tip
The trivia text taken from the CombineOverWiki, a fan-supported, editable wiki covering the Half-Life series of games.
Walkthrough
On the left is a complete text walkthrough for Half-Life: Opposing Force.

It has been written by Stanley E. Dunigan and updated with all the tricks and tips from PlanetPhillip.Com readers.

It is in PDF format, meaning you can open it directly in modern browsers or download it and print it.

(Left-click to open and right-click to save)
Do Not Own This Game?
You can purchase Half-Life: Opposing Force directly through Steam and could be playing in within moments, depending on your internet connection.