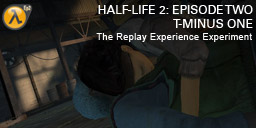 After the Striders are dispatched, Gordon returns to the Base and receives an unexpected thanks from Magnusson.
Before the rocket launch and out of Alyx's earshot, Eli tells Gordon that he believes The G-Man's message is a warning regarding the Borealis, telling Gordon to destroy it and promises to elaborate further.
He then tells Gordon that he is very proud and thankful of him, saying he "couldn't be prouder of you even if you were my own son".
The rocket is then successfully launched, closing the superportal and preventing the Combine from calling in reinforcements from their homeworld.
Alyx reveals that she found and fixed up an old helicopter that they can use to fly to the Borealis.
As Gordon and Alyx prepare to depart to search for Dr. Mossman, Advisors attack the helicopter hangar.
They telekinetically pin Alyx and Gordon to the wall and seize Eli. Eli warns them both that the Borealis must be destroyed and then tells Alyx he loves her and to look away as the Advisors proceed to kill him, probing his mind in the process.
Dog arrives and fights off the Advisors, forcing them to escape the hangar and freeing Gordon and Alyx from their control.
After they fall to the floor, Alyx runs to her father's side and holds onto his lifeless body.
As Alyx cries over Eli, the screen fades to black and the credits roll.
Screenshots
Click on the thumbnails below to open a 1024 pixel wide image.
WARNING: The screenshots contain spoilers.
Achievements
I won't be covering the Episode Two achievements in the same way as I did in the Half-Life 2 TREE event, because they are less chapter based. However, the CombineOverWiki has nice list that is very useful.
The Replay Experience Experiment
This post is part of the The Replay Experience Experiment event. This is a chance to replay all the Half-Life games and discuss them based on our experiences since we first played them.
Hat Tip
The intro and trivia text are taken from the CombineOverWiki, a fan-supported, editable wiki covering the Half-Life series of games.
Walkthrough
On the left is a complete text walkthrough for Half-Life 2: Episode Two.

It has been written by Stanley E. Dunigan and updated with all the tricks and tips from PlanetPhillip.Com readers.

It is in PDF format, meaning you can open it directly in modern browsers or download it and print it.

(Left-click to open and right-click to save)
Do Not Own This Game?
You can purchase Half-Life 2: Episode Two directly through Steam and could be playing in within moments, depending on your internet connection.