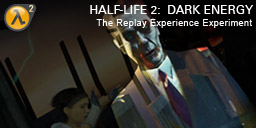 This final chapter details the climactic confrontation between Wallace Breen, Gordon Freeman and the leaders of the Resistance.
After being transported to Dr. Breen's office, Gordon is reunited with Eli Vance and Alyx Vance, who are both being kept captive in Stalker pods as well.
Dr. Breen tries once again to gain the allegiance of Eli but, after being refused, prepares to send Gordon, Alyx, and Eli through a portal to the Combine Overworld.
Dr. Breen also hints at the G-Man, stating that Gordon's "contract was open to the highest bidder." Mossman protests, but after being brushed off by Breen, decides to intervene, releasing Freeman, Alyx, and Eli.
Breen attempts to escape, fleeing to the Dark Energy Reactor at the very top of the Citadel, to be transported to the Combine Overworld.
Gordon gives chase however, fighting his way through Combine soldiers along the way. Just as the portal to the Overworld opens, Gordon attacks the reactor using his Dark Energy-infused Gravity Gun, causing the reactor to fail and go critical.
Just as the reactor explodes, likely killing Breen and almost killing Alyx and Gordon, the G-Man freezes time and addresses Gordon.
The G-Man congratulates Gordon on his success, stating that he has received "interesting offers" for Gordon's services. Gordon is put back into stasis by the G-Man, who then leaves through a door of light, with the final words: "In the meantime, this is where I get off."
The fates of Breen, Eli, Mossman, and Alyx is left unknown at the ending of the game, but Eli, Mossman, and Alyx's fates are revealed in the sequel. Breen's fate still remains unrevealed, however.
Trivia
No known trivia for this chapter. Do you have any?
Achievements

Screenshots
Click on the thumbnails below to open a 1024 pixel wide image.
WARNING: The screenshots contain spoilers.
The Replay Experience Experiment
This post is part of the The Replay Experience Experiment event. This is a chance to replay all the Half-Life games and discuss them based on our experiences since we first played them.
Hat Tip
The intro and trivia text are taken from the CombineOverWiki, a fan-supported, editable wiki covering the Half-Life series of games.
Walkthrough
On the left is a complete text walkthrough for Half-Life 2.

It has been written by Stanley E. Dunigan and updated with all the tricks and tips from PlanetPhillip.Com readers.

It is in PDF format, meaning you can open it directly in modern browsers or download it and print it.

(Left-click to open and right-click to save)
Do Not Own This Game?
You can purchase Half-Life 2 directly through Steam and could be playing in within moments, depending on your internet connection.