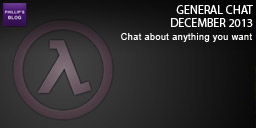 Okay, better late than never, so here is a place to chat. From this point forward, I'll create one for each month.
I've created this one so late in the month this time, hoping that with the holidays around the corner, PP readers will have more time to chat.
Please use this post to talk about about anything you want to – except maps and mods, which should be done of the specific post, assuming there is one.