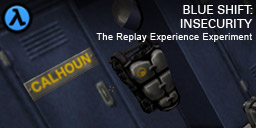 As a seemingly normal day at work starts, Barney Calhoun visits security headquarters, including a shooting range and a surveillance room where it is possible to see Gordon Freeman again on camera heading towards the HEV Storage Area.
Calhoun is then sent to help some scientists with an elevator; along the way, he witnesses many incidents foreshadowing the resonance cascade, such as a pair of scientists vainly trying to fix a supercomputer. He also sees the G-Man passing by in a tram.
After repairing the elevator, the resonance cascade occurs; the elevator is jammed, the cable snaps and sends Calhoun and two scientists plummeting down the shaft as chaos breaks out around them. As the elevator collides with the bottom of the elevator shaft, Calhoun falls unconscious.
Trivia
Challenges
Turn on the lights in the tunnel to Sector G.
Find the chumtoad.
Get yelled at by a scientist (other than the one waiting in elevator)
Phillip's Quiz Questions
This section is new for TREE. I will ask a few questions and see if you know the answers before you play.
What's are the security guards told they should be guarding?
Name one of the books in Barney's locker?
How many paper targets are in the shooting range?
Got all three right? Impressive Luke Skywalker
The Poll
Screenshots
Click on the thumbnails below to open a 1024 pixel wide image.
WARNING: The screenshots contain spoilers.
The Replay Experience Experiment
This post is part of the The Replay Experience Experiment event. This is a chance to replay all the Half-Life games and discuss them based on our experiences since we first played them.
Hat Tip
All text taken from the CombineOverWiki, a fan-supported, editable wiki covering the Half-Life series of games.
Walkthrough
On the left is a complete text walkthrough for Half-Life: Blue Shift.

It has been written by Stanley E. Dunigan and updated with all the tricks and tips from PlanetPhillip.Com readers.

It is in PDF format, meaning you can open it directly in modern browsers or download it and print it.

(Left-click to open and right-click to save)
Do Not Own This Game?
You can purchase Half-Life: Blue Shift directly through Steam and could be playing in within moments, depending on your internet connection.