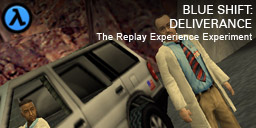 In this final chapter, the other scientists have teleported to a safe location outside Black Mesa with some cars laying about.
Barney Calhoun also arrives and sees Simmons and Rosenberg trying to fix an SUV and Bennet breaking open a gate with a crowbar, but some kind of discharge has affected him.
Calhoun is glowing green and is teleported to several locations, such as a Xen platform and a storage room in Black Mesa where he witnesses Gordon Freeman being carried off by a group of HECU soldiers to a trash compactor before transporting back to the scientists (a reference to the chapter Apprehension of Half-Life).
Calhoun finally ends up back at the yard with the scientists, no longer glowing.
They have fixed the SUV, and Rosenberg expresses his relief, explaining to Calhoun he is lucky not to have been caught in an infinite loop. Walter pulls the gate open, and the game ends.
Trivia
Sorry, none for this chapter
Challenges
No challenges for this chapter
Phillip's Quiz Questions
None for this chapter – sorry.
The Poll
None for this chapter – sorry
Behind the scenes
Blue Shift is the shortest game in the Half-Life series (with the exception of Half Life 2: Episode One) with all the events taking place immediately after the Resonance Cascade.
It is interesting to note that aside from the PlayStation 2-only Decay, Blue Shift is arguably the only HL1-based game with a happy ending. At the end of Half-Life, Gordon Freeman is conscripted by the mysterious G-Man, and Opposing Force's Adrian Shephard is detained by the same individual to ensure his silence.
However, in Blue Shift, Barney and his three scientist companions escape Black Mesa and the scrutiny of the G-Man, whose brief report suggests either that he deems them too insignificant to bother further monitoring or eliminating or that they managed to escape while he was busy with Freeman and Shephard (the exact wording says "out of range").
Screenshots
Click on the thumbnails below to open a 1024 pixel wide image.
WARNING: The screenshots contain spoilers.
The Replay Experience Experiment
This post is part of the The Replay Experience Experiment event. This is a chance to replay all the Half-Life games and discuss them based on our experiences since we first played them.
Hat Tip
All text taken from the CombineOverWiki, a fan-supported, editable wiki covering the Half-Life series of games.
Walkthrough
On the left is a complete text walkthrough for Half-Life: Blue Shift.

It has been written by Stanley E. Dunigan and updated with all the tricks and tips from PlanetPhillip.Com readers.

It is in PDF format, meaning you can open it directly in modern browsers or download it and print it.

(Left-click to open and right-click to save)
Do Not Own This Game?
You can purchase Half-Life: Blue Shift directly through Steam and could be playing in within moments, depending on your internet connection.