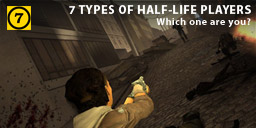 We all can be pidgeon-holed. The key is getting the holes accurate.
In this 7 Series article, I present 7 possible types of Half-Life player.
Of course, we often fall into multiple categories at different times of our playing career and depending on the game or mod we are playing and the mood we are in.
That said, I feel that deep down we come closest to one, but often we don't want to admit it.
After reading the types below, if you think I have the wrong types just add your own titles and descriptions.
Which one are you?
Number Seven: The QuickSaver

This type of player doesn't want to waste any time having to go back and play parts they have already played just because they didn't quicksave a few moments earlier.
In fact, they probably have a nervous tick and drink a lot of coffee.
You probably think that there are few of this type of player but you would be wrong. They are all around us: friends, neighbours, even family.
Don't despise or ridicule them because what they have is an addiction, and just like any other addiction they need our help.
I will soon be setting up support groups all over the world, both in the major cities and many smaller communities called QuickSave Anonymous (QSA) to help such people.
Even after extensive research it's not entirely clear why these players use quicksave so much but current thinking believes it's related to breastfeeding and pencils.
Keep a lookout for them for they hide their habit well.
Number Six: The Modder

Modders view things differently from players, even if they deny it. Once you have seen behind the curtain there is no going back.
There are different types of modders but many look at things from the same perspective: a technical one. Textures, lighting, alignment, geometry, enemy placement etc. Stuff that makes most players go bleary-eyed at all the jargon.
Of course, all that stuff is important but as any great author knows, sometimes you can break the rules and still give the reader an immersive and vivid experience.
I'm not suggesting that Modders don't have a valid point of view, because without them there would be no mods and therefore no PP, but it's just one of a number of valid points of view.
When you see Alyx looking at you with those "come hither" eyes, what they see is a framework and polygons. Poor chaps.
Number Five: The Blinkered Player

In many aspects this is almost the exact opposite of the Modder. They don't see anything except the gameplay.
For these sorts of players it could be Lego blocks for buildings and enemies and Smarties for ammo (Wait, maybe…No, forget I even started to say it). All they care about is playing, details fade into the background.
You could almost argue that at heart these are MP players who just happen to like playing some SP as well.
Ask these players about stuff they just played and the chances are they would not be able to answer accurately.
I get the feeling that as soon as they have finished one mod, they rush onto the next one.
Number Four: The Escapist Explorer

No area or place is safe from these players.
It goes beyond finding all the ammo and health caches to an almost unhealthy obsession with "breaking out".
Their avowed objective is to escape from every map, or at least get to places you never imagined were possible to get to.
These players are often confused with the Beta Tester, but whilst they do very similar things the motivation behind the actions is very different.
I admit to a certain satisfaction in reaching some of these places and have even moved crates quite a long way back or forward in a map just to see if I could reach a certain spot.
I suppose it's like mountaineering – they do it because it's there!
Number Three: The Beta Tester

The beta tester looks for every error imaginable and then suggests solutions to each issue.
And right there is one of the differences between the beta testers and the escapist explorer; one wants to help, the other wants to "beat" the mapper.
Of course, there are other differences because the beta testers is not just interested in finding holes in the mapping but also all the other details too. And let's not forget the gameplay aspects, which can be easily overlooked when worrying about layout and geometry.
The problem with these types of players is that they never know when they are NOT beta testing and assume everybody, including the mapper, wants to hear their opinion on how to improve the map.
In the same way mappers need to forget "stuff" for a while and just enjoy the map, so do beta testers.
Number Two: The Beat it on Hard

Should be very clear from their title, but these types of players only care about one thing – no, not sex, but beating everything they play on HARD.
Some, have to make sure all their friends know about it and others are happy to content themselves with the private knowledge of their ability and skill.
Beating something on HARD can easily become an obsession and some maybe even have dual playing personalities where they also quicksave but the point is focusing on the destination can make you lose sight of the journey.
Isn't the ultimate goal to have fun? Hopefully, but if you can only have fun when you beat something on HARD then that's a shame.
Number One: The Complainer.

As Sam would say "Oh Boy!". These kinds of players are never happy.
They probably talk to themselves when they play and if you are one of these players you probably know what I mean.
We, whoops, they are always looking for AND finding fault with everything they play. No matter what anybody else thought about it, they probably hate it.
You can see the reviews of these types of players on PP and pretty much every website.
To them, nothing is good enough, even the original games that spawned the mods. There is always something they would change.
I admit to being a bit like this but am really trying to change. It's a dangerous habit to get into.
Well, there you have them
Sure, I could have talked about the Run & Gun or the Stealth players, but they just seemed too obvious. I tried to go a bit deeper.
Now, this list has never been a numbered list as in the "most important" or any other sort of superlative. It was just about 7 types of players from many.
So, what you need to do now is sit down and think about your playing style for a moment. Are you one of the above or do you have a different style?
It's time to vote!