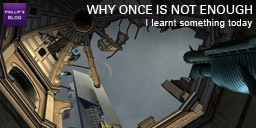 You see that image to the left? It comes from the Half-Life 2 chapter Follow Freeman, which I have just finished playing. It's the view from inside the Combine Nexus just as a Combine Gunship passes over the roof.
What struck me today, and quite hard too, was that playing a game like Half-Life 2 once is not enough. That may sound obvious to you but as somebody who is only just playing his way through the games for only the second time, it's a very important point.
When I watch a movie I feel that I have absorbed everything the director wanted me to. I really pay attention when watching movies and hate distractions. That's not to say I always see and understand everything, I just very rarely feel a second watching adds anything to my original thoughts.
It's strange though because in other areas I always do things twice. When washing my hair or a frying pan I always do it twice. Perhaps it's little, quick things but the second time seems to be so much better. There are other examples too, but they are not important.
What happened today was that I was so conscious of missing things I felt a little empty. For example, I missed how the horse column was knocked down as I was looking somewhere else and that's probably one of many incidents I could have missed.
I was a little shocked to see the combine soldier shoot the rebel behind the bars and that could have easily been missed. The whole thing got me wondering what else I have missed?
Now, this is not just a case of me not paying attention as it's more than likely Valve made it impossible to see everything first time round. If you see one thing, then you miss another thing that happens at the same time.
These games are not just flat representations on a screen but completely around and moving in time. Just as in real life, we can't be in more than one place at any one time – we have limited awareness.
I feel a little pressure to post the chapters with the TREE event and hope to replay the games at a leisurely pace one day soon. At the moment, I feel I am playing them for the readers instead of myself. Maybe that will make a difference.
I am now wondering which other games I should replay, books I should re-read or films I should re-watch.
What are your thoughts on this?