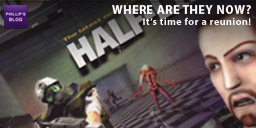 The 100 Summer Days of Nostalgia event has generated so many ideas for mod reports, podcasts and general articles. One of them, which has certainly been done before, but fits so well with the theme of the event is Where are they now?
I have emailed a few people and Petrick, a PP reader and reviewer, has said he has tried contacting a few people too, but I thought a proper post on the site would be a good idea.
I would love to get in contact with mappers and modders who crteated and released SP maps and mods between the release of Half-Life and 2004. I would like to do 2 main of things.
Firstly, some short interviews with these modders talking about their mapping history and what they did after they left mapping for HL. Secondly, I would very much like to arrange a roundtable podcast with either those mappers or players who have been involved with the HL community since the beginning.
So, if you are a mapper who was involved with HL "back in the day" or you know how to contact one, or are a player, who "has seen it all", please contact me.
I would especially like to hear from people who had followed the build up of the game and bought it on the day of release.
I am open to suggestions regarding articles and projects related to HL1 etc. Don't be shy, I won't bite.
I look forward to hearing from you.