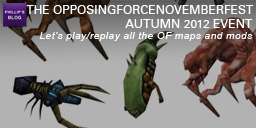 During November, I will be having another map and mod event.
It's called the:
OpposingForceNovemberFest.
Originally, it was going to be during October and the "OFOF" would have sounded cooler, but I just couldn't get it ready in time.
Also, it works out better this way because we have just finished playing Opposing Force for the TREE event (which is taking a break until December).
The event will work exactly how the 100 Summer Days of Nostalgia worked last year, with regular updates (hopefully daily) and the usual articles, podcasts, and stats.
In addition, there will be a special MapTap file that will contain ALL the maps for the event. However, that file WILL NOT contain certain mods, as those will have to be installed manually.
If you are interested in being on the review table (see the 100SDoN) please let me know so I can add you to the list.