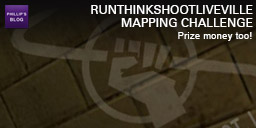 With the announcement that I will be moving to a new domain early next year, I feel it's the perfect time to combine it with a new mapping challenge.
In this challenge, I want you to make a map with 4 distinct sections:
Section 1: RUN
Section 2: THINK
Section 3: SHOOT
Section 4: LIVE
Section 1 should be a race. A race against time where the player has to move and move fast. We call that running and that's what I want the player to have to do. I imagine that at this point the player has little or no chance of winning if they stop and fight. Sometimes you just gotta RUN and fight another day.
Section 2 is about thinking. Solving a puzzle, find a way around an obstacle, something where brains not brawns are needed.
Section 3 is about shooting. Either killing lots of enemies or some sort of accuracy challenge. Could be with any weapon in any situation.
Section 4 is about that feeling of survival. It could be reaching a goal seen at the beginning or just moving onto to another adventure. Use of music and setting will be very important in this section.
As a whole, the map should take the player through each section, either clearly defined or subtly if you prefer.
As this is a challenge, I am more interested in the whole than the details. I will even accept orange dev textures if the actual gameplay is good enough,a lthough you have MUCH longer than usual, so I would prefer properly polished entries.
Deadline
This challenge has a much longer time span than most others.
The deadline for submitting maps is:
Monday 5th January at 12pm GMT
That's just over 5 weeks.
General Advice
DO NOT GET TOO AMBITIOUS. If you can't build it in 3 1/2 weeks then think smaller. Something is bound to delay your progress. Leave time for testing, bug fixing and polishing!
Testing
I highly recommend The Beta Testers Collective.
But since it is holiday time, please make sure you give them plenty of time to test.
Of course, you can get anybody you want to test your maps, but the BTC are very good at it and provide excellent feedback.
Prize Money
It's been a while since I provided prize money as it both encourages and discourages mappers.
I have yet to decide the exact amount in the prize fund but I think it will be around $100 US Dollars.
If you would like to contribute some cash to add to the fund, please let me know.
Depending on the number of entries, it will probably go something like this: Winner $75 and Honourable mention: $25
Judging Criteria
Since I am putting the money up (from your kind donations), I will select the winner.
If you are serious about entering and want to win, I suggest playing the other mapping competitions/challenges and see which ones I preferred.
General Rules
Maximum two maps per mapper per competition.
The map must be original and not have been released publicly before.
The map must run in system with only Ep2 installed
By entering the competition you grant PlanetPhillip.Com and RunThinkShootLive.Com the right to release the map as part of the RTSLVille Mod.
Maps must not appear before the release and for one month after the release of the mod.
No assets from retail games other than HL2, HL2: Ep1 or HL2: Ep2 are allowed.
Other assets are allowed with written permission from their original authors, which MUST be included in the entry.
Phillip's decision is final and no correspondence will be entered into about it.
The map MUST have a proper name.
The map MUST have a proper filename: MapName_rtslv.bsp
All entries must be sent to: [email protected] no later than the deadline.
Bonus Map
There is no bonus map for this challenge.
Final Thoughts
I think this is the most open theme I have had in a long time, but also focsued enough that it provides clear guidelines for all modders.
If you have ANY questions, please don't hesitate to ask, either here in the comments or by email if you prefer a private answer.