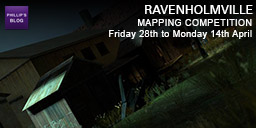 For this competition, you must create a map that is inspired by Ravenholm.
There are no limits to the size of the maps or playtime.
You can have a starting premise or basic story but that is not required.
UPDATE: Through a very kind $50 donation by BFG9000, the RavenholmVille mapping competition prize fund has increased.
Please see the rest of this post for full details.
Basic Details
RavenholmVille runs from 6:00am GMT Friday 28th March 2014 until 6:00am GMT Monday 14th April 2014.
Entries must be set in a Ravenholm-style environment and have the correct atmosphere.
Think zombies, gravity gun and blades. However, don't be afraid to introduce something new too.
Bonus Map
The mod will include a bonus map made by Darren Weekes AKA DAZ who has been working on it for a few weeks. This map is NOT part of the competition and will NOT be part of the public vote.
Judging Criteria
The voting for the winner will be by public vote. But it all comes down to attention to detail, atmosphere and how much fun people have playing it.
Beta Testing
Please contact Ade, the leader of The Beta Testers Collective, a free beta map testing project, to have your map tested. I fully understand that 17 days is very short but even one playthrough by somebody new is enough to highlight issues. She can be contacted here: [email protected]
Prizes
I will be giving one $5 Steam game. At this point I don't know if the winner will be able to choose their games or if it will be a random selection.
Special Requirements
Please ensure that your map works on Steampipe. For more information on Steampipe, please see: Steampipe and the Current Issues, this FacePunch Mapping Thread and this Steam Community thread. You could also try a web search for specific issues.
In previous mapping announcement, The_Blazer wrote "Specifically, the Source SDK tool is now entirely disabled, and Hammer needs to be launched from Steam > steamapps > common > Half-Life 2 > bin. It's inside that.