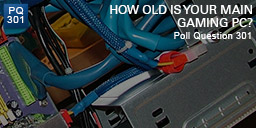 In the first in a short series of hardware polls, this week's poll is about the age of your main gaming computer.
The question was suggested by a reader who is building a mod and has decided to ensure his son's computer can run it, since it's quite old.
It's a sensible philosophy but when he suggested it to me, we couldn't find a good way of classifying PCs.
In the end, we decided to simply things and ask about the age of a user's PC.
In fact, it's got me thinking about a database of users' PC specifications as a way of grouping them so that modders can set levels that their mod would work for. Of course, the fact that the game that the mod is made for runs on a PC should be enough but since the games we are modding for are quite old it seems sensible to at least think about it.
I will talk with Jan about adding something like this to a user's profile and then collating the details onto the statistics page to give modders some idea of the average PP reader PC.
In the coming weeks, I'll add a few more poll questions about readers hardware.
Time to Vote