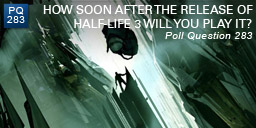 So, let's be clear, from this moment forward, and probably some time in the past, I will be calling the next game in the HL series: Half-Life 3.
I think we all agree it's not going to be an episode any more.
Onto the poll question. My working life is a little different to what it was 20 years ago and I no longer have the opportunity to take days off when I want it – basically, I work when I am told to.
Of course, if you are in full time education then it may be easier to take time off than when you are working.
When HL3 gets released I plan to empty then next weekend and play it to finish. I'll need to block that time off or I'll end up playing in 1 hour segments and that's no fun.
I won't be among the first to play it, but I'll be earlier than I have for ALL the other games I played.
What about you?
Your Chance to Vote!