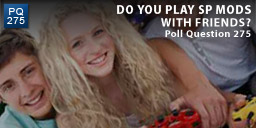 None of my "real" friends, and by real I mean people I see in real life, play video games. We do other stuff together; we play Frontenis, walk up Anboto or just relax at the beach.
But what I would really like to do is have some friends over and play some SP mods or games and experience the interaction of others who love it as much as I do.
Now, I recognize that it happens with Multiplayer mods and games but it's probably less common with SP stuff.
We watch TV shows and films together and I know of people of who read the same book as their partner at the same time, so why not video games?
Time to Vote!