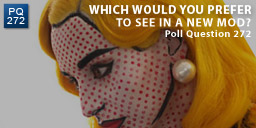 When you have played as many SP maps and mods as I have, and many of you have, then most of them just blend into one forgettable mix.
That's not to say I didn't enjoy them at the time or they weren't fun to play, it's just that there's not enough difference between them.
Then of course, we jump to Alt mods, which are way beyond normal mods to lose touch with what most action gamers enjoy.
So, what does that leave us with?
I'm not sure, but there must be something, right?
I've suggested a few things, but feel free to add your own but please make sure you also add them in the comments, so other readers can see them.
Time to vote