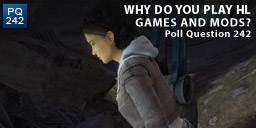 Emanuel recently wrote one of his editorials called Grand Manager 2 where he whines like a little girl about some silly little headache. I managed to read past all the complaining and finally get to his point, which to be honest it's been said before, but what he slipped in earlier sparked my interest.
Due to this minor headache (which he blew all out of proportion – but let's face it, that's typical of Emanuel!) he felt he couldn't watch a movie, read a book or study his elementary heat transfer sums, so he decides to replay HL2: Ep1.
Reading and watching are incredible passive activities, yet he choose something more active that he felt would relax him. On the surface it's a strange choice, but when you look and think deeper it's quite interesting.
Of course, the key is that he is "replaying" the game. Repetition, even slightly active, can definitely be relaxing but I still find it a little strange.
It got me asking "Why do I play games and mods?" and relaxation certainly wasn't one of the answers I had. It was more about exploring places and environments that I will never get to see, getting excited by the story and battles, having the challenge of beating the game and mods. In fact, all the things I thought of were active, involved things.
For me, relaxing is about turning my mind and body off. Sure physical activity can be relaxing, but that's often because you take your mind off your everyday problems and focus on you physical exertions.
There's not doubt so games can be relaxing, Tetris, is one that springs to mind, but only if it is repetitive and that why the replay point is so key.
That said, I don't think I would ever describe my game playing hobby as relaxing.
What about you?
The Poll