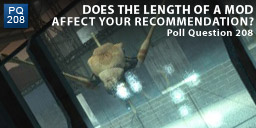 I'm one of the few players who don't like really long mod. I lose interest too easily. I like something I can play within one or two sitting, say 3 hours maximum.
I understand why players like mods and if I didn't run all my websites then maybe it would be different for me.
However, one thing I can't understand is when a mod is not very long and people write review that say something like "I would have given this a better rating if it were longer".
That suggests that they are comparing it to longer mods or at least a minimum length. If the mod is good then taht is all that should matter.
Obviously, compare a 15 minute short film to a regular 90 minute one is unfair but would you say that people shouldn't watch the short one, just because it is short?
The exception is when the mod or map os a demo of something longer. Clearly, it's fair to suggest people wait for the longer version if they feel that the reader would benefit from that experience.
Quality is quality and length is length, let's not confuse them.
What do you think?
The Poll