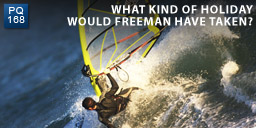 As with all my "What would Freeman…", the question relates to BEFORE the Black Mesa incident. Let's see if we can get a sort of consensus of his character.
This week, I ask about the type of holidays he would have taken. You can choose a number of options this week.
I'd like to think that he was already and adventure kind of guy but he certainly could have been geeky enough to spend his time in museums!
What do you think?
The Poll