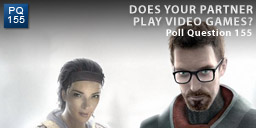 This is a great question that came from Jasper and those who visit the forum will know that his partner also plays video games and has even started to comment on the site.
I fear he is one of the lucky ones, the chances are that a lot of men will at least give gaming a try, even if they don't like it, whereas women seem to be less inclined to try and that's a shame because it's cool to share some activities with your partner.
Please don't misunderstand me and I am equal gaming opportunities guy, "share the fun" I say, but let's be honest most women aren't that interested in gaming. of course, lots of visitors have partners that are not female, bt I haven't split the poll into those kinds of options.
It's a topic I've touched on before but I don't know how many gaming couples visit the site, let alone play games together or against each other.
Closest my partner comes is Tetris, in fact, is is not interested in PP at all, and only uses the PC to check emails and visit the Ikea website, plus a few other sites (weather, TV shows etc).
So, if you have a partner that is interested in gaming, then congratulations, that is unless they whoop you at DM!
What do you think?
The Poll