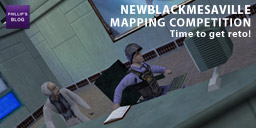 I am pleased to announce the next mapping competition: NewBlackMesaVille.
Well it's time for a change. The next mapping competition will be on GoldSource, that's the Half-Life 1 engine. Why? I hear you ask. Well, firstly, it's something I have wanted to do for a while. Secondly, there's a Source mod announcement coming soon that would interfere with a normal competition.
So, here we are. Yes, a few people won't be happy about that and I understand their point of view, GoldSource is old and who still plays it? Well, more people than you think – at least I hope so.
I didn't want to wait until some time in April to run another competition and this seemed the best compromise.
I WILL announce a Source competition in April,so don't worry.
And the reason why April is important will become clear once the mod gets announced. Sorry to be so cryptic.
For this competition, you are required to create a map set in Black Mesa using as many new textures as you can. New models would be good too but they won't be considered in the judging process.
The winning map will be the map that gives the feel of Black Mesa, with great action and exploring AND is well made, i.e. no ways to get out of the map, not missing textures etc.
Map size isn't that important because I am not expecting really big maps but I would hope for at least 15 minutes of gameplay. If you submit a really big entry don't think it will automatically be judged higher. Better to create something really well made but smaller.
Recreations of existing areas from Black Mesa are allowed but new areas are prefered.
Some Resources
I thought you might like a small list of resources to help speed things up. If you know of some others, please let me know and I will add them to the list.
You can also use CS1.6, TFC and OF textures.
DEADLINE
The deadline for receiving maps is
Monday 02 April 10:00AM GMT
To ENTER
Send an email ([email protected]) with your map attached and any installation instructions.
Make sure you include a readme.txt, identifying youself as the author, and any other details you feel important.
Files larger than 20MB should be uploaded to a free host first.
RULES
1. The map must be original and not have been released publicly before.
2. More than one entry is allowed by individual mappers or development teams, but iterations of the same map are not allowed. Maps than follow on from other maps count as part of that entry.
3. By entering the competition you grant PlanetPhillip.com the right to release the map as part of the NewBlackMesaVille mappack (which will consist of all the maps entered into the competition) All maps will be clearly credited. Your entry must not appear before the release of the mappack.
4. No illegal assets are allowed.
5. No assets from previously released maps or mods are allowed without written permission from their original authors, which MUST be included in the entry email.
6. The judge's decision is final and no correspondence will be entered into about it.
7. The map MUST have a proper name.
8. The map MUST have a proper filename: YourMapName_pp_nbmville.bsp
9. You may use any new assets you wish, as long as it doesn't break rules 4 and 5.
10. New rules may be added at any time. Please check this page for the latest information.
THE PRIZES
One winner will be selected by Phillip. This map will win 40 US Dollars paid ONLY via PayPal.
All entrants , except the winner, will be entered into a draw, with a 10 US Dollar prize. This means you could win, just by entering!
Good luck to all those who choose to enter and let's hope this is competition sees some fantastic maps!
If you have any questions, please don't hesitate to ask.