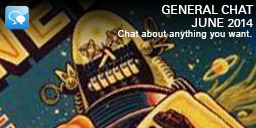 Welcome to June!
The sun is starting to appear more and more where I live and the days are so loooong, which is great. I'll probably spend more time away from my PC this year than any other in the last 12 years, but I'll also try to be more productive when I am there.
Please use this post to talk about about anything you want to – except maps and mods, which should be done of the specific post, assuming there is one.
This Month's Sci-Fi Movie
From now on, I will use a poster from a classic Sci-Fi move as the background for the post image. This month it is from Forbidden Planet 1956, which features Robby the robot and the Krell. The Krell base is 20 miles square and underground. There's a nice summary of the movie over on Sci-Fi Movie Zone, but don't visit it if you plan to watch the movie.
Here is the poster: