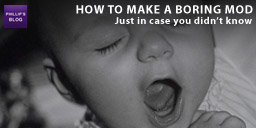 It's become clear that modders are getting very good and are becoming too ambitious. It's time for me to remind them of the basics.
In this article I am going to cover the essentials of making a boring mod. Hopefully, it will be read by thousands of modders and in just a few short months we will all reap the benefits!
Don't bother with a story
Who cares why players are in the situation they are in? Who cares what the motivation for their actions is. Nobody, that's who. As single player mod players all we want is to not play against those foul-mouthed, whiny teenagers. Single player mods that have stories and tell those stories through level design, NPC actions and other thoughtful devices are two-a-penny. You can't turn around without bumping into one.
Let's go back to the "YOU ARE HERE AND YOU MUST GET TO THERE AND KILL EVERYTHING IN YOUR WAY" kinda mods. In fact, I propose that the gaming community adopts that as a new sub-genre.
Make it as bright or as dark as possible
Let's be honest, great lighting is easy – anybody can do it. Just open the editor and place a few light sources here and there and you are done. What we really need are levels that are way too dark to see anything. That's where the fun is. Oh! and don't forget to leave out the flashlight. It's clear that creating dark levels automatcially creates scary or atmospheric situations.
Of course, the opposite is true too. Super bright lights or over done HDR is the way to go for everything else besides fear. In fact, why not save yourself the trouble and just have a Combine scanner fixed in front of the player at all times and set to take a photo every 5 seconds. Don't forget to give it a starting health of 10000 and each hit should be worth 3 points max. One last thing, make sure it's just out of range of the crowbar.
Insert your own favourite music
We have all played those great mods that use Valve's in-game music or have some custom written for just the right mood. BAH! What we really need is some bad-ass hip-hop-punk-rap-dance tracks to really bring the mood down. Or if you don't like the sound of that, what not just opt for the heavy metal soundtrack. Nothing is better than walking around a futuristic setting than some crazy-ass weirdo screeming obscenities in your ear.
Basic level design
BOXY IS GOOD. See how I used capitals there? I did that to make sure you heard me. If a level or room is simply one huge box, you have almost reached the pinnacle of your chosen hobby. Why go to all the trouble of designing an interesting layout, with views to areas you'll reach soon and other fun ideas, when you can just as easily make the huge box? Okay, it takes a little more work to make the huge box, but come on! We all agree it's worth it.
Puzzles
There's nothing more fun than getting to a door and finding it's locked, with a message that reads something like "It's locked – you need a key" My God, if it was cool in 1999 you can be damn sure it's still cool now.
Another good rule is that if your 10-year old sister can solve it, then most other players will struggle. Heck, she's practically the smartest kid in her house so that must be okay?
If you do decide to break the mold (and I highly recommend NOT doing that) make sure that the solution is not based on what is generally accepted as reality. We all know that the more obscure the solution the smarter you are if you find it. I mean, geez, everybody knows you need to hit each wall in the room with the Fibonacci sequence up to the number of millimetres the door is in height to make the door unlock itself. Even your lil' sister could have work that out if you had given her the chance.
What I am trying to say is either go super simple or go super-freaking unguessable. ANYTHING, yes ANYTHING in the middle is a waste of your supreme talents.
Beta Testing
Hold your horses there pardner. If it works on your PC it will damn sure work on every other computer on the whole planet. Time wasted on beta testing could be better spent on making another huge box for the player to delight in.
Just drop that idea and get back to work.
Let's talk about health.
I have no hesitation in reminding you to go with the "All or nothing" philosophy of level design. There's absolutely nothing wrong with not giving the player any health to find. Geez, how crappy are some players? I know it's hard to believe but some people actually needed health to finish Half-Life 2 on HARD. HAHA, suckers. Now, it's just as insulting to provide as much health as is physically possible. I'd love to see whole levels built out of health packs, just like Lego. No more complaining from those butterfly (Spanish joke) players again. Drown in the damn things, won't you.
Conclusion
So, there you have Part 1 of a 217 part series on "How to make a boring Mod"
Remember reader, work on those skills and I am sure that soon you will be making boring mods.
This message was brought to you by the National Sarcasm Foundation.
Stay tuned until next week.