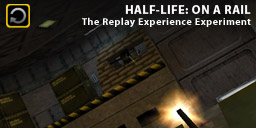 As Gordon Freeman rides a monorail in the Materials Transport section of Black Mesa, he learns from a security guard that he must ride to the High Altitude Launch Center to launch a satellite, which the Lambda Team can use to reverse the effects of the Resonance Cascade.
He also discovers the HECU's true hatred for him, as well as larger reinforcements: sandbag bunkers with rapid-fire sniper rifles, mounted machine gun turrets (manual and automated), and even mounted rocket launchers.
After going round in circles, it seems, for a while, he goes up several elevators and at last reaches the surface again. At the launch site, he sends the rocket up into orbit, and regretfully goes back below ground.
Trivia
No trivia for this chapter. 🙁
The Poll
Challenges
The challenges below have been set by 2muchvideogames
Find all 3 HEV wall chargers in this chapter.
Find the secret area with the 3 batteries.
Kill the soldier before he can press the plunger that detonates the explosives.
Ride on the rocket for a few seconds.
Saves
MEDIUM: 70 Health 27 HEV [67KB]
HARD: I need a HARD save for this level. Do you ahve one? Please send it to me.
Screenshots
Click on the thumbnails below to open a 1024 pixel wide image.
WARNING: The screenshots contain spoilers.
The Replay Experience Experiment
This post is part of the The Replay Experience Experiment 2012 event. This is a chance to replay all the Half-Life games and discuss them based on our experiences since we first played them.
Hat Tip
All text taken from the CombineOverWiki, a fan-supported, editable wiki covering the Half-Life series of games.
A Complete Half-Life Walkthrough
On the left is a complete text walkthrough for Half-Life.

It has been written by Stanley E. Dunigan and updated with all the tricks and tips from PlanetPhillip.Com readers.

It is in PDF format, meaning you can open it directly in modern browsers or download it and print it.

(Left-click to open and right-click to save)
Do Not Own This Game?
You can purchase Half-Life directly through Steam and could be playing in within moments, depending on your internet connection.