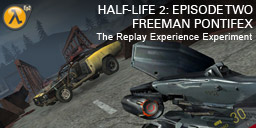 Upon reaching the surface, a large group of Combine forces is seen travelling north towards White Forest with Advisors in tow.
Gordon must fight off the Antlion Guardian, along with an Antlion Guard and several of their smaller kin, before reaching the last Resistance outpost of the Victory Mine. There, they find that the settlement has been overrun by Headcrabs.
Gordon is required to descend into the zombie-infested mining settlement in order to reach a working car for the journey to White Forest.
Alyx assists Gordon by covering his progress with a sniper rifle powered by the Vortigaunt. Gordon finally reaches the far side of the settlement where the muscle car awaits.
He jumps the car over a broken bridge back onto the side Alyx and the Vortigaunt are waiting at. The Vortigaunt takes his leave of Alyx and Gordon, informing them that his kin are hunting "shu'ulathoi" still in their escape pods.
Trivia
Pontifex is a Latin term meaning both "priest" and "Bridge Builder".
Screenshots
Click on the thumbnails below to open a 1024 pixel wide image.
WARNING: The screenshots contain spoilers.
Achievements
I won't be covering the Episode Two achievements in the same way as I did in the Half-Life 2 TREE event, because they are less chapter based. However, the CombineOverWiki has nice list that is very useful.
The Replay Experience Experiment
This post is part of the The Replay Experience Experiment event. This is a chance to replay all the Half-Life games and discuss them based on our experiences since we first played them.
Hat Tip
The intro and trivia text are taken from the CombineOverWiki, a fan-supported, editable wiki covering the Half-Life series of games.
Walkthrough
On the left is a complete text walkthrough for Half-Life 2: Episode Two.

It has been written by Stanley E. Dunigan and updated with all the tricks and tips from PlanetPhillip.Com readers.

It is in PDF format, meaning you can open it directly in modern browsers or download it and print it.

(Left-click to open and right-click to save)
Do Not Own This Game?
You can purchase Half-Life 2: Episode Two directly through Steam and could be playing in within moments, depending on your internet connection.