You've wanted it! We've wanted to do it! Perhaps the best Ville challenge ever finally returns!
FusionVille 2 is the next full Map Labs mapping challenge and it starts now! FusionVille 2 runs through Monday, August 31st. Get mapping!
Theme Details
The original FusionVille required mappers to combine 3 of 8 given themes from previous challenges. Same thing for FusionVille 2 but with a twist – you must pick 3 of the 10 given themes and fuse them together… drawn from past Villes and from past Map Labs!
Bridge
Toxic
Teleport
Liberation
Vertical
Episode One
Two Rooms
Think Tank
Companion Piece
Back on Track
Here's the official announcement (click for full version):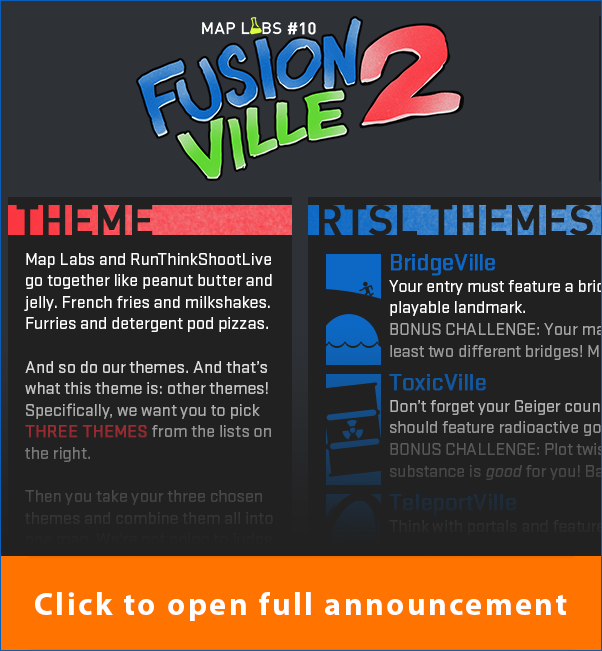 Deadline
The deadline for submission is Monday 31st August 2020. With an extra 3 days after that for bonus (non-judged) maps.
Background
I'm really happy for FusionVille 2 to be happening, especially as a Map Labs challenge! Hopefully there will be another crossover in the future. Most of the Map Labs challenges are available right here on RTSL, and all are on the Map Labs ModDB page (with Steam release coming soon!).
As always, if you're not already there, join the Map Labs Discord for good discussion & a great mapping community.
Submission Details
Submit maps using the Submission Form.
The Usual Advice
Don't get overly ambitious. Controlling your map's scope is key! If you can't build it in a few weekends then think smaller.
Something is bound to delay your progress. Leave time for testing, bug fixing, and polishing!
We highly recommend getting your map alpha and beta tested by somebody you trust. Do this early in development if you can!
We'd love to see clever blendings of the themes! Some of these themes have much more potential than their released mods realized, this is your chance to mix things up and surprise us!