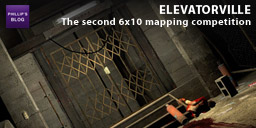 This competition is being kindly sponsored by SteamContests.Com.
The prize, in addition to the points, is $25 US Dollars (paid via PayPal) plus two random Steam games.
For this competition I want you to create puzzles to allow an elevator to work or open.
To enter, you need a minimum of 3 floors. The objective is to create some sort of puzzle to get the elevator up or down to the next floor.
You can have "press the right buttons", combat, power supply issues, shoot something; anything to get the elevator working.
Each floor can be completely different from the others. They don't have to have any visual connection with each other. They can be abstract, funky, Combine-esque, Ravenholm, Sixties London (if you wanna make the textures and models); the choice is yours.
The winner will be the map that was most fun to play and looked good.
As usual, if you have any questions, please use the comments system below or email me directly: [email protected].
There are NO additional rules that apply to this competition – but make sure you READ the main rules!
Visit the 6×10 Mapping Competition Series homepage for full details of the event and the rules.