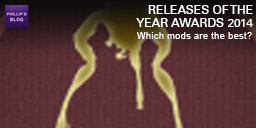 Here at PP, soon to be RunThinkShootLive, there have been intermittent end of year awards, but from now on, there will be an award ceremony every year.
Each category will be voted upon by readers but the initial list will come from the Recommendation System.
IMPORTANT NOTE
I included a mod released in 2012 (Year Long Alarm) and thanks to JellyGal pointing it out, I have now removed it and reset all the votes, so if you voted in the Golden Hunter and The Freeman votes, please vote again.
Only maps and mods actually RELEASED in 2014 will be eligible for consideration. Maps and mods are updated and lots of older maps and mods are added within any given year but those won't be considered.
Hopefully, there will have a least 5 releases for each category every year.
In addition, the categories are not one for each game, but one for each engine and then an overall one.
For this year's awards there will only be three:
The Golden Headcrab: Best GoldSource Release of the Year
The Golden Hunter: Best Source Release of the Year
The Freeman Award: Best Release of the Year
Next year, there will be a total of 6 awards (more on what kind of awards next year!) and Phillip will start collecting potential releases for each new category from now on.
Voting closes Saturday 17th January 2015.
So, without further ado, lets get started!
The Golden Headcrab: Best GoldSource Release of the Year

There were only three releases in 2014 for GoldSource games which is a shame but I suppose we should be grateful people are still making GoldSource mods at all.
There might have been some releases that were missed, but this is the list.
Hopelessness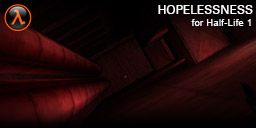 A classic "escape from Black Mesa" mod.
Taking you through a variety of different areas, you encounter stiff opposition to your progress.
Freedom awaits for those smart and brave enough to continue forward.
Good Luck – You'll need it.
The Gloom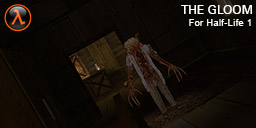 This is a single Player remake of de_storm.
There are two keys needed; a silver and a gold key.
Can you find them and progress?
Will you find all the weapon and ammo caches?
Only one way to find out…
The Returning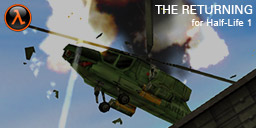 In this 15-map mappack, you get to revisit the Black Mesa Research Facility.
Of course, nothing goes the way you expect it – that is if you expect it to go smoothly!
You will need to fight your way through and solve puzzles along the way to reach the waiting helicopter.
Are you smart and determined enough? Let's find out.
Time to Vote
The Golden Hunter Award: Best Source Release of the Year

This category features a full 5 entrants.
Obviously, there were a lot more releases in this category and in many ways it might have been one of the best recent years for releases – you decide.
Forest Train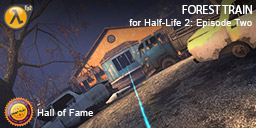 What a beautiful day! Shame you've got nothing better to do than hang around monitoring the radio.
Well, today is your lucky day. You get a message to help some citizens reach White Forest.
Can you help them?
Only one way to find it!
The Masked Prisoner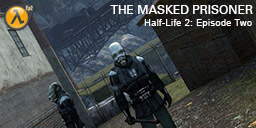 Oh BOY! You've been captured and taken to a Combine Prison.
Your mother was right, You are special.
Follow the instructions and do what you do best – cause trouble.
Watch the story unfold right before your eyes.
DiamondDogsVille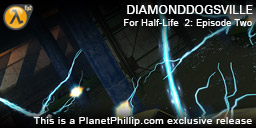 For this competition, entrants had to create an area from which the player must escape.
This "Escape" is most probably accomplished through the solving of some puzzle and/or combat.
The Forgotten Journey Mod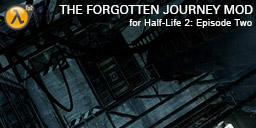 A malfunction with the teleporter sends Gordon Freeman to a new location.
This mod features all 7 entries for the Interlopers.Net mapping competition.
Some maps have been updated.
RavenholmVille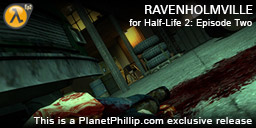 Eight maps, all set in Ravenholm, with one simple objective: Escape.
Look out for traps, hiding places, and anything else that can save your neck.
Each map offers something different and fresh, so make sure you take your time and enjoy the screams!
Time to Vote!
The Freeman Award: Best Release of the Year

Now for the final award, The Freeman Award. The voting for this contains all the entrants from The Golden Headcrab abd Golden Hunter Awards, plus the option to add your own selection.
I won't re-list each entrant, but just let you get straight on to the voting.
Good Luck to all entrants and vote now before the vote closes!
Time to Vote