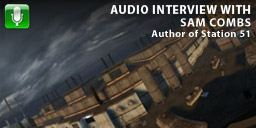 I got the chance to chat with Sam today. Sam is the author of Station 51 and A Brief Detour, he's also made other maps for other games.
But let's be honest we only care about SP for Source!
Sam has some of some of his portfolio over at Carbon-Made and is currently working at GameLoft.
We talk about game and level design, modding and a bunch of other stuff.
I mention that Station 51 is top of the Readers' Recommendations for Ep2 and Sam mentions the 7 Day FPS Challenge.
Anyway, Sam may drop by, so if you have any questions you want to ask him, please post them in the comments.
Listen to the interview
Loading…