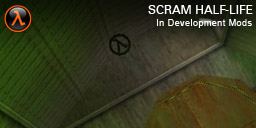 SCRAM is a modification to the original Half-Life single player game. It does not have any new content such as enemies, weapons, or maps.
The intent is two-fold:
1) Make HL more challenging, Enemies are tougher, faster, and smarter. Although your weapons are just as strong as in normal HL, you can't carry as much ammo for most weapons, particularly on the higher difficulty levels.
2) To offset some of the increased challenge, the real heart of SCRAM is a reward system. In each map (after the tram ride) there are 3 lambda nuclei that can be found. Finding the nuclei can earn you rewards (ammo, health, armor) at the very end of each map. Find one and you might be rewarded – find two or all three and you'll definitely get a nice gift at the end of the level.
The lambda nuclei are just like in my small mod Scramble, but in SCRAM there are tangible rewards for reaching these goals.
Note also that the entire reward system is optional.
More screenshots and other details can be found on the homepage: ScramHalfLife.com/.
Videos
He is a short teaser showing some aspects of the mod.

Exclusive Screenshots
Click on the thumbnails below to open a 1024 pixel wide image.
WARNING: The screenshots contain spoilers.