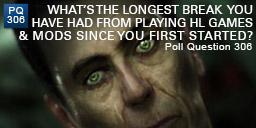 Andrew just posted a review for a Half-Life 2 map and mentioned he hadn't played HL2 in over a year and I just couldn't imagine not playing for more than a few weeks and that's when I am on holiday and away from my PC.
Of course, I am passionate or obsessed, depending on your point of view, but I feel most of my readers are as addicted as I am, if not more.
This seemed an interesting question and I considered expanding it to ALL games and mods but I'm more interested in just your HL habits.
Your Chance to Vote