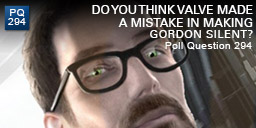 There's been some recent talk on Reddit about Gordon, specifically related to "Is anyone else annoyed by the level of undue praise in HL2?" and "The Success and Failure of Silence: Gordon Freeman in Half Life and Half Life 2".
I mentioned the first thread on the May 2014 General Chat but I have wanted to re-start the Poll Questions for some time and this seems an interesting enough topic.
Clearly Gordon is "special", both in terms of in-game and as a game character. Not speaking allows players to slip into his shoes more easily than if he spoke, but is that sort of wording just me regurgitating commonly held views?
How do women feel about playing as a man?
Is it really that important?
I think in the Second Unreal, the player is a woman and it didn't make any difference at all for me.
Perhaps once we get into hardware that more completely immerses the player then it will matter, but not at the moment.
Thoughts and votes?