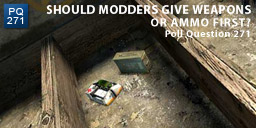 I was playing a mod this morning and found ammo before I got any weapons.
My first thought was to go back and look again, which is exactly what I did.
I spent, or wasted!, 5 minutes retracing my steps.
Now, the whole "weapon and ammo location" issue is quite complex and really depends on the game and setting. Personally, all these shotguns and pistols laying around in Half-Life games is not very believable.
I think there should be a body next to each. Ammo should only be found in the gun itself – if that means that the modder must put more weapons lying around then so be it.
Anyway, if I get a weapon and ammo at the same time, I am okay with that, but I prefer to get the weapon first, as that encourages me to hunt for ammo.
As I said earlier, if I get the ammo first I always think I must have missed the weapon.
What about you?
Time to vote