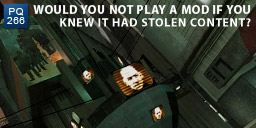 I found a mod on ModDB yesterday and a few reviewers were saying that it had stolen content. I am now in a quandary: I want PP to have everything single SP mod available but I don't want to post something that steals content from other mod makers.
To be honest, if modders steal stuff from retail games, I don't mind too much, but if it is from other modders, that seems a little unfair, although I accept there's no real difference.
I suppose that I will eventually add it, but I'll see how the ModDB community responds to this particular issue before I decide.
Of course, hosting a mod and playing it are two different things, so what about you Would you not play a mod if you knew it had stolen content?
Note: The thumbnail image is NOT from the mod in question.
Get voting