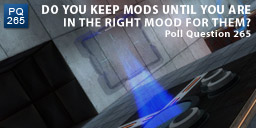 Sounds pretty obvious, doesn't it? But I wonder if players put certain mods to one side until "they are in the mood".
I certainly have to be in the mood for difficult Portal mods, I just can't play unless I am in the right frame of mind.
But that's about it for me, everything else I just play when I need to play it.
I just play everything as it's released, assuming I have the time.
What about you?
Quick note: I've been pretty ill this week and spent all day in bed yesterday and plan to do the same Saturday and Sunday. This is the only update the site will have for at least 3 days, maybe more. Sorry!
Get voting