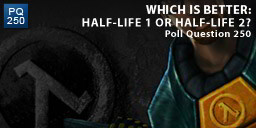 Following on from last week's poll question of Which is better: P1 or P2, I thought I would continue the theme.
This time it's much hard to decide because like many great questions of prowess (Ali vs Tyson, Caruso vs Pavarotti etc) it often comes down to era. Just as importantly is which one you played first.
I'm not suggesting that which ever one you played first is automatically the winner, but the "first time" can leave a special memory, even if the reality was somewhat different.
Not only that but the engine and graphics play a huge part in video games and facial animations allow better story telling, the gravity gun/physics allow better environment interaction, but is the core game better for that?
Exactly how do you define "better"? The one you enjoyed the most. Heck, that would make Tetris one of the greatest games ever considering how much fun I've had t=with that sucker.
Do we have to look at the other games around at the time and make a comparison with those? If one was better in that regard does it make it better overall?
We could write questions like this for ages but I think it really does come down to enjoyment.
Nothing can beat the wonder of playing through Half-Life 1 and that tram ride is burned into my mind.
Sure, Ep2 is fantastic and so are many of the mods, but if I had to play one game and its mods for the rest of my days it would be HL1.
What about you?
The Poll