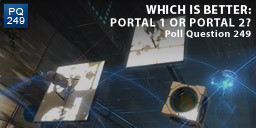 I'm not a huge Portal fan but I do enjoy the occasional map or mod.
There's been more debate about which is better: Portal 1 or Portal 2 than for HL1 or HL2, mainly because they are both on the "same" engine and any comparison naturally gravitates towards visual aspects.
I am a great believer in the order of doing something has a dramatic effect on our feelings towards things. So, for me the excitement and wonder caused by both HL1 and Portal can't be beaten just because of fancy physics or beautiful views.
Yes, those things are important but only in the context of what is available at the time of playing any game. What I am saying is that if you downgraded or upgraded all games to the same technical aspects the order you play something has the biggest influence.
As much as I loved Portal 2, especially the 1950's areas and some of the new mechanics, the obvious changes by Valve to give the game more depth didn't interest me much and in some cases backfired because it annoyed me.
Of course, Portal is such a limited game in that it's hard to change the basic visual aspect AND create interest in the play. Whatever art style you use a Portal chamber is a Portal chamber is a Portal chamber.
Did the addition of a botched story, new art and new character make the game better than Portal 1? Not in my humble opinion. Sure, releasing a game without new elements as Portal 2 would probably not have been successful. But I suspect if the art and story were created by a bunch of 8-year-olds people would still have bought the game in the same numbers AND praised the "new" art style.
Let's not forget that Portal 2 has Co-op gameplay and that is a great idea, but that could easily be backdated to Portal 1. Is it so much better because it is in Portal 2? Maybe. Maybe co-op needs all the extra mechanics to make it fun, I don't know.
What do you think?
The Poll